Reliable, Reputable, Experienced.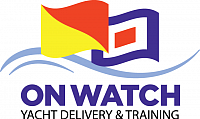 Veteran Owned. Use our years of experience to build your experience!
NEED A DELIVERY QUOTE? E-MAIL:
Phone: 941-704-6206
_________________________________________________
COVID-19 UPDATE:
On Watch Yacht Delivery & Training is taking your health and well-being seriously. During deliveries while the Covid-19 issue is active, we will take the following steps to assure our clients and crew's safety.
During shoreside stops, we will limit our exposure to external personnel on the docks and wear proper PPE (Masks & Gloves) during fuel stops. We will also use disinfectant wipes on all commonly used surfaces.
The vessel will be washed down externally, disinfected and cleaned internally before turning the vessel over to the clients.
Shoreside activities will be limited as much as possible to assure proper social distancing guidelines and practices for the duration of the delivery.
We take your health as well as our crew's safety seriously at On Watch Yacht Delivery! We will do our part to all get through this happy and healthy!
Captain Jeff Lewis: owner/operator


In recent days, Professional Delivery Services like On Watch Yacht Delivery & Training have been noticing a troubling trend during the pandemic and subsequent employment layoffs. We see a trend of un-prepared, new licensees submitting quotes for deliveries to yacht owners with severely discounted rates.
We understand that competition is healthy for consumers and we welcome a comparison to anyone who wishes to compete for your business. However, we would like to advise our clients to be wary of these low bidders.
Please be sure to ask them how many vessels of that type they have delivered and how familiar are they with the transit route? This can potentially become a massive unplanned expense if there is an emergency, and if the Captain you hire is unfamiliar with what passes/inlets to traverse, what marinas have good facilities and clean fuel, etc.
Experience means everything when it comes to handling unexpected contingencies such as break-downs. We have spent 11 years building good relationships with marina owners and marine service providers throughout the country and the Caribbean.
Can your Captain handle most repair and troubleshooting issues before having to consult a mechanic or rigger? Your vessel should not be placed in the hands of someone who is building their experience on YOUR dime!
We assure you open and honest pricing. We may not quote the LOWEST of anyone, but we won't shock you with a massively inaccurate final bill compared to the initial quote.
To our return clients, we thank you for your business, please be safe we and look forward to continuing to provide a world class level yacht delivery & training service. Please give us the opportunity to show you our skills and expertise that ONLY experience can bring you!
——————————————————————
Welcome to a new and professional way to have your yacht delivered! On Watch Yacht Delivery & Training is owned and operated by Captain Jeff Lewis. Captain Lewis is a 47 year experienced 100 Gross Ton Master Captain on both power and sail. As a former Customer Service Manager in the Aviation Industry, he has a background of providing superior service. His combination of business, military and maritime experience makes for an outstanding experience for our clients.
"WHY do we do what we do?" We have a passion for boats and everything that comes with life on the water! After a lifetime of experience aboard boats, we still have a love and reverence for the ocean and the boats we love to spend special times on. We know how precious your vessel can be in your life and we can relate!
How is On Watch different? We provide professional service from quote to completion. We are a FULL TIME SERVICE, not part timers doing deliveries as a side job. To start, we send you a detailed quote and an open, honest assessment of your delivery or training needs. We provide you with specific breakdown of our calculations, where all funds will be distributed throughout the delivery.
Second, we "CAP" the quote we send. What does that mean? As you know most deliveries are quoted on a "per-Diem" rate. We do the same, but we also CAP the quote, so if we mis-calculated the number of days to complete the delivery, we do not charge you for the additional time to complete the delivery. However, we RARELY deliver late! If we are ahead of schedule, we will credit you back and reduce the final delivery fee.
We are also "Owner Friendly." We understand some owners would like to participate in the delivery. If you are mentally and physically capable of participating, we are happy to have you along for the adventure. Deliveries are not "cruises!" We don't take a leisurely sail on your dime...we WORK on your behalf! Even if you can't join us, we will provide you regular updates of your vessel's location via e-mail using SPOT Locator & Garmin inReach technology. You will have the peace of mind knowing where your vessel is at all times.
As a boat owner and lover, I know how you may feel entrusting your vessel to a virtual stranger. I hope to put you at ease that your vessel is in good, capable hands. My philosophy is to always act in the best interest of the owner first! Most Captains will say they will treat your boat "As my own!" I personally disagree... I treat your vessel with the reverence as it is NOT my vessel to take undue risk with. You can rest assured your boat is in the hands of a conscientious Captain with attention to detail. I am a Captain who conducts himself as if the owner is aboard even if he is not.
CAPTAIN JEFF LEWIS' BIOGRAPHY
A third generation sailor, Captain Lewis has owned and operated both power and sailboats since a very young age, up to and over 80 feet in length. He was established early in life as a successful racer and competitor on various class sailboats. He has built a solid reputation as a reliable, professional and trustworthy non-smoking Captain. Your yacht is in good hands when entrusted with Captain Jeff Lewis. "I'm proud to say we have a 100% successful delivery history. Each yacht has been delivered safely and securely. I treat each vessel NOT as they are my own, but with the reverence that it is NOT my vessel to take undue risk with when under my command."
Every delivery has different requirements, thus, planning is as important as the execution of the delivery. A good delivery captain should have a solid grasp as to what to expect concerning weather, vessel condition, its capabilities, and crew capabilities.
With more than 47 years of experience on various size power and sail driven boats, Captain Jeff Lewis has successfully completed dozens of trans-oceanic trips. Captain Jeff Lewis retired from the U.S. Coast Guard in 2000 with Honorable Distinction and held a "Secret" level security clearance during his entire tenure in the Coast Guard reflective of his honesty and integrity.
EXPERIENCE!
Captain Jeff Lewis has successfully completed many trans-oceanic deliveries on sailing and power vessels from 30' to 80' and over 60,000 offshore track miles, serving as Captain and Navigator. He is an experienced, accomplished boat handler and navigator in the Atlantic, Caribbean and Gulf of Mexico. He was honored with "Outstanding Instructor" by The American Sailing Association in 2010. He served as a Skimmer Vessel Captain during the BP Oil Spill Clean Up Effort in 2010. He is a skilled sailor with a lifetime of more than 47 years of safe sailing and powerboat operating and heavy weather experience.
See the video below for a taste of the weather I have lots of experience in!...
Qualifications:
>Discover Boating Certified Instructor Examiner (POWER)
>Multi Engine & Single Engine & Directed Thrust Vessels
>Close Quarters Precision Maneuvering Instructor
>Advanced Docking Instructor
>Power boating Made Easy Instructor
>Sailing Catamaran Certified Instructor
>2010 American Sailing Association, "Outstanding Sailing Instructor"

>U.S.Coast Guard Retired with Honorable Distinction
>100 Gross Ton Master Licensed
>Passagemaking Experienced
>Offshore Qualified/Experienced
>TWIC Card Holder
>First Aid & CPR Certified
>Towing Endorsement
>Sailing Endorsement
>ASA Sailing Instructor: 101, 103, 104, 114.
>PADI Dive Master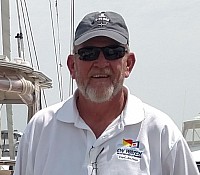 ...An Introduction to One of Our Associate Captains
Captain Jim Deyo has been operating boats, both power and sail, for over forty years. His early experience as a teenager was with 16 to 20 foot ski boats and small sailboats (Sunfish and Hobie Cat). After enlisting in the US Coast Guard he was designated as a Search and Rescue (SAR) Boat Coxswain operating 30, 40, and 41 foot Utility Boats, as well as a 44 foot Motor Life Boat on Chicago's Lake Michigan water front. SAR Coxswain duties included formal training in navigation, twin and single screw boat handling, search and rescue planning, extreme weather operations, and crew management. He gained larger vessel experience during Coast Guard officer candidate training. Sailing CGC Eagle, a 295-foot square rigged barque as Cadet Executive Officer, he coordinated watch schedules and held positions as Conning Officer, Quartermaster of the
Watch, and Lead Helmsman on CGC Eagle's month long cruise from Chesapeake Bay to New Orleans. Later in his Coast Guard career, Captain Jim Deyo graduated Naval Flight Training and was designated a HC-130 long range SAR Aircraft Commander. He also served 3 years in an exchange tour as a Primary Flight Instructor for the Navy. Captain Jim Deyo retired from the Coast Guard with Honorable Distinction after 21 years of service.
Outside of USCG, Captain Jim Deyo has gained extensive passage making experience aboard both power and sail driven vessels. He has owned, skippered, or crewed aboard both monohull and catamaran sailboats to 56 feet, as well as single, twin, and directed thrust propulsion powerboats to 65 feet. He regularly cruises the southern Chesapeake Bay, Albemarle and Pamlico sounds aboard his 35 foot express cruiser, as well as offshore fishes (gulf stream) the Outer Banks of North Carolina. He has been racing locally for the past eighteen years with his local yacht club and Albemarle Sound Sailing Association on his own Irwin 32, as well as crewing aboard other club member's boats. A professionally trained aviation instructor, he leverages that experience to effectively teach boat handling concepts in a cohesive, calm, and easygoing style.
Qualifications:
>USCG 50 Gross Ton Master Licensed
>Towing Endorsement
>Sailing Endorsement
>Discover Boating Certified Instructor (POWER) >Multi-Engine & Single Engine & Directed Thrust Vessels >Close Quarters Precision Maneuvering Instructor >Advanced Docking Instructor
>Powerboating Made Easy Instructor
>Passagemaking Experienced
>Offshore Qualified/Experienced
>U.S. Coast Guard Retired with Honorable Distinction >Transportation Workers Identification Card (TWIC) Holder >First Aid & CPR Certified
>FAA Certified Commercial Multi-engine Aircraft Pilot >FAA Certified Flight Instructor
>PADI Open Water Diver Certified