Some of my Published Works & Journal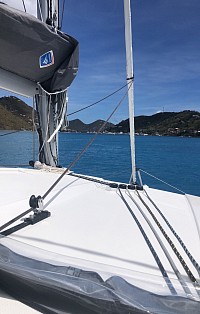 YEARS OF OVER 200 GREAT LANDFALLS!
2020-2023 were our busiest years yet!  Post Covid seemed to have sparked a flurry of new yacht owners and renewed interest in the freedom and beauty of being on the water.
Whether people chose to be bay sailors, coastal sailors or blue water open ocean explorers, the common thread seemed to be an appreciation for experiences on Mother Ocean!
We logged nearly 15,000 nautical miles, making safe, successful yacht deliveries up and down the US East Coast as well as to and from the Caribbean. Some were more challenging than others, but all brought us new opportunities for learning more and passing that knowledge on to our clients.
We have also completed about a dozen Owner Assisted/Training missions with our owners gaining invaluable experience as to what it takes to sail many miles over open ocean dealing with everything from weather forecasts to meal planning. 
In 2023, we surpassed 200 yacht deliveries logged! On top of that, Capt. Jeff Lewis has revisited his passion for racing on his Mirage 33' "Slow Bell".  We have won several cruising class regattas in a very competitive field of sailor in Tampa Bay.

As we approach the halfway mark of the year, we look forward to continuing to provide high quality experiences for our clients whether yo come along or stay at home and watch us track across the chart on our tracking site!
Contact us today to join us!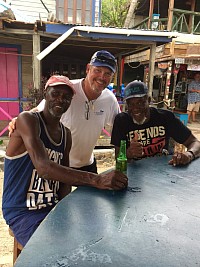 Without a shadow of a doubt, 2017 was by far the busiest and most challenging year of all the years we've been in this business! 17 Deliveries and countless training classes and clinics. It started in January with a wild ride to Road Harbor, BVI on Molly Too, a Jeanneau 519 and culminated on the FP 44' Helia Southern Sun with a blisteringly fast run from Annapolis, MD. to Marsh Harbor, Bahamas in under 7 Days.
The story of the year of course was our Hurricane Season which was one of the most destructive in memory. Hurricane Irma and Maria did incalculable damage to the Virgin Islands, Puerto Rico and at the time of this writing, are still struggling to overcome the devastation. Despite the massive damage, everyone in the islands is working hard to rebuild quickly. Kirstie Palmer and her crew at BVI Yacht Charters are working from sun up until sun down repairing and in some cases, overhauling boats back to seaworthy condition with amazing results.
We arrived in early November with the first new charter boat replacement in the islands. The scale of damage was overwhelming, but we're told it was a vast improvement since the storms. We visited Jost Van Dyke and witnessed the damage at White Bay. The famous Soggy Dollar was under reconstruction as well as some of the smaller establishments that benefited from the overspill, such as Coco Locos owned by Uncle Wendell. We spent a good hour or so listening to him tell us about his experience weathering the storm packing winds of well over 200 mph for over 2 hours.
While he told us his harrowing tale, we could see in his face, that he was reliving the experience as you would hear a story from someone with PTSD in wartime. His voice cracked as he described his sister being blown into a tree and breaking her hip as she endeavored to seek shelter from the home which had its roof blown off. She was stranded in that tree until the eye of the storm passed overhead allowing the family to retrieve her and bring her to the only concrete shelter on the beach where they hunkered down for the second half of the storm. Uncle Wendell wept a bit as he described "A thirty foot wave broke and took away my bar and my home!"
We contacted as many people as possible to donate to his "Go Fund Me" page and managed to raise a modest amount for him. We spent the evening afterward, with Foxy Caldwell at his bar which didn't suffer as much damage structurally so much as loss of all the lush trees that once surrounded the entire grounds. Being the only guests at his club that night, he regaled us with his life tales and played his guitar assuring us, the islands will ALWAYS recover from whatever Mother Nature throws at them. They've done it before and will do it again. We left his Tamarind Bar with high hopes for their future.
Back here at my home base in Tampa, FL. I can't help but reflect on the challenges of this year with vessel breakdowns scheduling and weather challenges. There were so many delays and frustrating hang ups that I can only look back and see them as "lessons learned". My list of things to inspect before departure has expanded threefold as new issues have revealed themselves as potential failure points. My preparation time for departures is going to have to expand to accommodate the checkout of this ever expanding list of potential "gotcha's"!
Next year will bring many more opportunities as I have spent the past few months indoctrinating a new Captain into our fold. I will be introducing him online this year once all of his documentation has cleared and is official. He has immersed himself fully into this crazy yacht delivery life and so far hasn't run for the hills in the face of its challenges. We will be able to handle more deliveries without the quality of our service dropping off. He has learned exactly how On Watch Yacht Delivery conducts business to a higher standard.
Since this is the end of ANOTHER very successful year, I want to, as always, thank everyone who did business with us, referred business and helped make us one of the best Yacht Delivery services in the industry. We are small, and intend to stay that way while providing big results for our clients. I have no doubt that 2018 will shatter more records, but I hope next year is a MUCH quieter storm season! Wishing everyone a very happy holiday and prosperous new year!
Capt. Jeff Lewis
I can't believe 2016 is already coming to a close! What a wild year for the world and for On Watch Yacht Delivery & Training! We completed 12 Deliveries, 6 Boat Shows & Events and 10 Private Classes of training aboard various size and type vessels! In short it was darn near non-stop for us!
One of the biggest changes some of you may have noticed, is we have updated our website and our logo! I am so proud of the new (and more professional) logo and image! Biggest thanks got to my brilliant girlfriend, Jennifer Fleming. She is a huge driving force to upgrading the company image. For example, she is the one who created the cool little e-postcards you may have received this year to keep you in the loop of what we are up to! Also, I want to thank Doubletake Studios in Tampa, FL. for quickly creating the new logo for us.
Thank you to everyone who chose On Watch Yacht Delivery & Training for their deliveries and personal instruction! I especially want to thank all of my clients who referred new business and wrote such glowing Raving Fan letters!!! I am very thankful to all of you this year!
Next year is already shaping up to be another banner year for us! We expect to deliver our 100th vessel early next year!!! I hope to make that a very special delivery! I am looking forward to that event! I want to keep the spirit of this blog as a means of showing my gratitude for everyone who supported us this year and who will hopefully continue to do so in the future!
Captain Jeff Lewis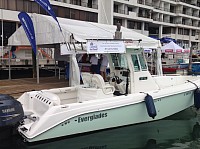 Our momentum in our training department is continuing to gain interest. Experienced boaters are coming to us to hone their boat handling skills. We are shattering old bad habits and paradigms daily! Beginners come to us to boost their confidence and learn the skills needed to safely handle their boats for a more enjoyable boating experience.
We brought our Everglades 270 CC to the Miami International Boat Show. We utilized her for our Advanced Docking Seminars throughout the Boat Show. Over the course of the show, we estimate over 200 attendees joined us for our various level clinics from, basic boat handling in close quarters, to Advance Precision Skills. The feedback we received was quite flattering. So many people stopped us on the docks to compliment us on how our student/attendees docked the boats in the fray of demonstration boats departing and returning in the boat show venue.
As professional Instructors, we had the opportunity to witness a lot of other "Professional" Captains collide with pilings, other boats and docks, even with cutting edge "Docking Joystick" systems. I began to think about "Why, with all that fancy equipment are they still crashing into the docks?
The answer came to me quickly... Regardless of the technology aboard any boat, the operator STILL must know how to deal with winds and current, and position the boat properly for a successful docking. The joystick systems cannot overcome a boat set improperly to the wind or current. For instance... If one does not know where they need to begin a pivot maneuver to back a boat into a slip, no joystick system in the world will correct the wrong decision made by the operator.
There is no substitute for a properly trained and seasoned vessel operator in a strong wind or current. Come join us for our clinics and learn to properly dock a powerboat or sailboat! Let us help you become a more competent, confident operator! We look forward to meeting you!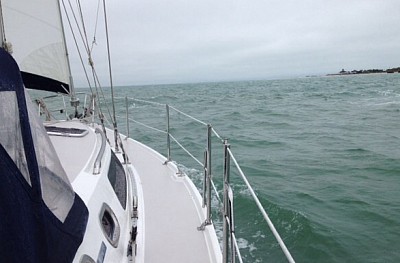 GREAT JANUARY!!! HAPPY NEW YEAR!
As I look back on January 2014, all I can say is "WOW! What a Month!" FOUR Yacht Deliveries and FOUR DAYS of Powerboat Clinics and Personal Training! If January is any indication of the rest of the year for On Watch Yacht Delivery, we are going to have to buckle in for a wild ride! My deepest thanks to our businesses who referred business to us (See "Our Friends" on this web page.) Most of all, thank you to all our customers who entrusted us with their pride and joy vessels!
Completing this many deliveries during arguably the most challenging Month of the year to deliver vessels, speaks volumes of our ability to plan and execute deliveries between very narrow weather windows! Thank you to our clients for being flexible with the delivery dates! Working together was a big contribution to our mutual success.
As our photo shows, sometimes we have to get underway on days that don't look so inviting. Risk assessment is something we work with every day. Experience is a huge factor when choosing a competent and prudent Delivery Captain. We look forward to serving your delivery and training needs. Contact us for a detailed competitive quote!
Have fun out there on the water and keep "Living the dream!"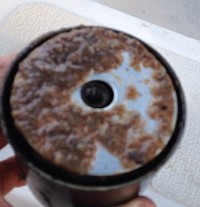 VESSEL PREPARATION FOR DELIVERY:
I am writing today to impart a shining example of why it is important to have a vessel as prepared as possible. If someone is requesting their vessel be delivered by a professional delivery captain and crew, here are some important things to think about.
We, as boat owners all know (If we spend any time at all on our boats) exactly what is working and not working at 100%. If you are requesting a delivery crew move your boat, I suggest you be as up front as possible with the known shortcomings of your vessel. Not doing so and just hoping the issue won't come up is going to cost you and below is an illustration of that.
FUEL CONTAMINATION:
If your vessel is in a tropical climate and sitting at a dock for well over a year without use or fuel treatment... Or a completely topped tank, you are asking for trouble. A simple 600 nm delivery on a sailboat with contaminated fuel went from a $3200.00 quote to a final bill of over $6000.00. Here is how...
My delivery crew and I arrived to inspect and prepare the boat for departure. Inspections revealed a few discrepancies... All listed below... Here is what happened.
We had a scheduled first light departure... Timing was critical to make open water before night fall.
The contaminated fuel required we return to the dock to change not only the primary but also secondary fuel filter. This set our mission back three hours due to the Inaccessibility of the filter. We had to remove everything out of the cockpit storage to access the engine mounted filter. The three hours prevented us from making open water before dark and required one additional night on the hook to wait for daylight.
Daylight was one issue. Due to a November delivery, we had a narrow window for weather. That 3 hour delay now put us behind the timing of the next cold front approaching as we ventured North in the Gulf of Mexico from the Keys. We elected to duck into Tampa Bay for the impending NW winds. A quick stop in Manatee River for topping of fuel and back underway was on the slate.
... While raising the anchor, our next problem presented itself...
BROKEN FOLDING PROPELLER:
We placed the boat in gear and it felt like two large animals were wrestling on our prop shaft. We limped into port and my diver found we indeed, slung a blade. Upon inspection, the blade had been cracked and corroded deep into the metal for some time. It was just a matter of time before it parted and we were the lucky ones on the delivery to find it. Luckily we weren't in the middle of the Gulf of Mexico when it slung off.
We took a slip and had my diver order up a new prop. Luckily, I had a good working relationship with this diver and was able to expedite a new prop. Had I not known this man... We were looking at a 3 to 4 day delay. The clock was ticking for the owner... Per Diem racking up for the captain and crew, slip fees, diver fees. We were diligent in getting the replacement quickly. By 1600 hrs the next day we were outfitted with a new prop and underway for the final leg from Tampa Bay to Mobile Bay.
REMEMBER COAST GUARD MINIMUM SAFETY EQUIPMENT LIST?
One of the discrepancies we found was the 35' vessel had no throwable type IV, no horn, ONE fire extinguisher (Requires two MINIMUM) the flares on board expired in 1993!!! Okay... Need to get a cab and send a crew to West Marine for the minimum equipment... More time wasted and additional service fees for the trouble. $130.00 worth of equipment cost with cab ride and additional time nearly $200.00.
IN CONCLUSION:
There were more things wrong with the vessel than stated here. My point in all this typing and blogging is just a few hours of inspection as the owner and playing a bit of "What if?" Will save you potentially thousands of dollars in repairs, delays and crew labor and time charges. A simple fuel polishing and equipment inspection before the trip would have saved all involved a lot of trouble. I for one do not enjoy handing a boat owner a much larger bill than quoted. This is not something pleasant for me or the owner.
On Watch Yacht Delivery & Training we strive to find and correct all issues before departure, but we can only find so much on a pre departure delivery inspection. A successful, safe and pleasant delivery is predicated by diligence and open communication by the owner and delivery skipper. Also, please as a boat owner, if things are discovered wrong with the vessel and reported to you, we appreciate if you don't take it out on us or even worse, try to BLAME us for the discrepancy. This does not make for a good working relationship. Food for thought!
Below, is a copy of the e mail I sent Candace Hogan, the head of Social Media for Dian Nyad.
Candice,
I just got a copy of Diana's Check in e-mail to the Team. I did not receive it directly, but can understand as I was a new addition and did not get the e mail. I got Nancy's Copy and read the e mail from Diana. I am of course stunned, but not in the least surprised at the spate of naysayers who have come from the wood-work to attempt to soil Diana's history making crossing from Cuba to Key West. I have researched some of the people making the racket and have come to the conclusion they are a bit petty and small minded. I expect this from those types of people. As requested from Nancy, I have gone back through my logbook I was keeping. I am adding some of my thoughts (below) as the trip progressed. I for one, had no "Skin in the game" for Diana's success.
I was brought in in the last week to provide my services as a Captain. Whereas I have followed Diana's previous attempts to complete this swim, I had no connection to Diana up until the date of my hire. You were aboard my vessel during the entire trip and can attest that I took in very little sleep during the entire endeavor from Cuba to Key West. I estimate I acquired a total of 4 Hours of sleep during the entire swim. I have absolutely NO doubt Diana swam without breaking a single rule of the swim. If ANYONE would wish to question me about what I witnessed, I will be more than happy to answer any questions from my perspective of the swim. I hope you are doing well Candice. It was a pleasure to be of service to you and your social media team as well as to the entirety of the Swim Team.
Notes and thoughts below: (From My Personal Log) All times, EDST
AUGUST 31, 2013:
0600: Customs Clearance and return of flares from Cuban Authorities. 0800: On Station outside Marina Hemmingway. Provisions Checked: On Scene Weather: Winds, 110 degrees at 4-6kts. Seas... Calm, Skies Clear.
0859:02: Nyad In the water... Swim Officially begins. 1430: Pos. N2311.8 W08231.4 at 1 kts at 330 degrees mag. On Scene Weather: Wind, 060 deg. at 11-13.5 kts. Seas, 1-3 ft. Ceiling, High Cirrus Estimated Set: 110 deg. mag. at .8 kts.
1800: Pos. N2315.6 W08230.4 at 1 kts. at 330 deg mag. On Scene WX: Wind 065 deg. mag. at 8 kts. Seas, 1 ft. w/ 3 sec. period. Estimated Current: 100 deg. mag. at 110 deg. mag. Est temp. 86 deg. F. Ceiling, High Overcast, broken Cumulus at 1500 ft. Sct. T' Storms.
2000: Weather Report called in to Vanessa via Satellite Phone.
SEPTEMBER 1, 2013: 0000: Pos. N2321.9 W08226.6 at 1 kt. Seas, 2-3 ft. Sct. T'storms.
0930: Pos. N2334.9 W08214.4 at 1.0 kt. Winds 13 kts from 180 deg. Mag. Seas, 4-6 ft. Seas, 1-2 ft. High Overcast, Broken ceiling. All fleet passed for a pep rally for Diana as she tread water for nourishment. Big smile from Diana in return.
1900: Pos. N2400.3 W08156.5 at 2.5 kts at 030 deg. mag. Winds SSE at 6-8 kts. Seas, 2 ft. swell with 1 ft. wind chop. Ceiling, high Stratus, broken Set to North at 3.0 kts estimated.
My Personal thoughts at this time... We are in the stream and getting a good push Northward. with Diana swimming we are making over 4kts. she could tread water and make good time, but she continues to stroke at her standard 50 strokes per minute. She is truly an iron lady. I prefer to call her "Lady Titanium". She is showing no sign of fatigue or waiver in her resolve. I actually have a sense she is swimming stronger now than she was earlier today. I suspect she must have gotten some source of motivation from Bonnie.Nightfall is closing in and the debate of Diana wearing the mask or not is weighing on the team and Diana. Angel says there is no sign of Jelly fish due to the moon phase and tidal phase. Looks like all is going well for the Xtreme Dream Team. The word I am getting is Diana is skeptical about the Jelly Fish assessment. ( I don't blame her)
My hat is off to John Bartlett... He was dead on correct with his assessment and navigational skills. He has placed us in the Northerly Hook he mentioned to me while showing me the plan on his chart in Cuba. He assured me he verified this current during his crossing south from Key west. As one Navigator to another, he is as good as I have witnessed. We are hoping for a continuation of a fortuitous current as far as possible. We are not sure what will happen as we approach the drop off at Key West. The currents there can be very unpredictable.
SEPTEMBER 2, 2013: 0450: Pos. N2424.4 W08149.4 Landing plan formulated from present position to Marker 32 ETA 1100 Hrs Local time. then to Smathers Beach, Key West. Estimated landing between 1600 and 1800 hrs. Local time.
My Thoughts... This is the final day... Diana looks very tired and is understandably suffering from lack of sleep and fatigue. Bonnie and her team of handlers are nearly hoarse from spurring on and cheering Diana on. I could hear their voices from my vessel nearly 100 yards away throughout the night.
I only took in an hour or so of sleep this evening, as I felt the excitement of history on the verge of being made. When I was asked how I was doing, I could only answer, "I am doing great! I am witnessing something big today!" I could not help but be pulled into the moment of watching Diana reach for every last bit of energy she could muster to obtain a dream she had for the greater part of her life.I watched her endure nights of vomiting, high winds and waves, squalls, ingestion of salt water, and the sheer monotony of hours of stroking one hand over the other toward her dream while the team who surrounded her urged her on. Some were veterans of the struggles past, some new... Like me.
Regardless of new or veteran, the moment was not lost on a single one of us. we were all witnessing history. I was not watching a 64 year old woman fulfill a life's dream. I was witnessing the toughest human being... Regardless of being young, old male or female overcome monumental problems and obstacles. She displayed a physical and mental toughness I have yet to see in anyone I have met in my days. I have to admit, when I witnessed her walk on that beach and fall into Bonnie's arms amid the throngs of people who cheered her accomplishment. I... a 250 Pound former football player, and military man of 20 years, wept and cheered as well.
SEPTEMBER 9, 2013: I awoke today to news that there are doubters about the validity of Diana's swim. This not surprising, but it is sad that there are people who do not believe she accomplished this seemingly insurmountable feat. There are some who to this day think we never landed on the moon. Some think the Holocaust was fictional. Some think September 11, was staged. Neil Armstrong and those who suffered losses of the other events had to deal with this ilk of very sad and small minded people. Diana will no doubt also have to also deal with such people.
I personally feel blessed to be among those who know the truth. I was there. I saw nearly every stroke of her historic swim. There were independent observers on my boat which I commanded that were CONTINUOUSLY witnessing her swim and documenting every moment from the Voyager not 10 feet away from her. At NO time was there ever a moment where either observer didn't witness every stroke of her swim. For those who doubt... I feel pity for you. It must be horrible to live in a mindset in which you wish to diminish the accomplishments of those who are truly great. The ones who find a way no matter what the odds.
I am sure Diana and every one who were there can sleep soundly at night with the knowledge that she did it... She did it fair and square...For those who doubt, we who were there only feel pity for those who were not.
All the best! Captain George Jeffrey Lewis (100 Gross Ton Master Captain)
Captain: "Dreams Do Come True" FP 41' Catamaran.
I just returned from conducting Powerboat clinics in Jacksonville, FL. I have to admit it has been a long time since I have had to apply the skills needed in handling strong current! Jacksonville is located on a river which really gets ripping when the tide reaches full gallop!
In most of our clinics, all we really covered in station keeping, or holding the boat in a "stopped" position, we instruct to keep the "stern to wind", or "weather vane technique". What we don't get a chance to discuss enough is the rule of "Bow to Current!" I will be adding some short suggestions to handle various wind and current conditions in close quarter maneuvering.
In the meantime, remember these two rules for station keeping and close quarter maneuvering:
"Stern to WIND"
"Bow to CURRENT"
Have fun out there on the water!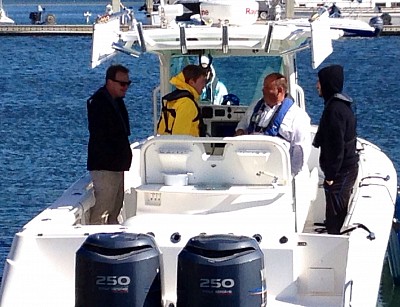 ...Some of my Web Publications...
(Click on Link Below to Read)