WHAT DO WE DO????
SERVICES WE OFFER...
Power or Sail Yacht Delivery
Personal Sailing Instruction
Customized Powerboat Instruction
Close Quarters Maneuvering Instruction
Advanced Docking Training
Power Boating Made Easy
New Vessel Orientation
Vessel Storm Preparation
Yacht Monitoring & Management
Moving to New Marinas or to Haul Out
Sea Trial & Survey Captain
Private Yacht Charter Captain
Vessel Poject Management
INSURANCE TRAINING/SYLLABUS SIGN-OFF REQUIREMENTS FOR OWNERS
Qualifications and Certifications:
100 GT Master Licensed
Commercial Assistance Towing Endorsement
TWIC Card
CPR & First Aid Qualified
Random Drug Testing Consortium Member. (APCA)
RPBA Certified Instructor Evaluator (POWER)
Multi & Single Engine (Inboard, Directed Thrust, Outboard) Instructor Certified
2010 ASA Outstanding Instructor
Coast Guard Retired (20 Years)
Offshore Passagemaking Experienced
ASA Sailing Instructor 101 to 114 (Mono-hull - Cruising Catamaran)
PADI Dive Master
CALL US AT: 941-704-6206. For a Quick Quote!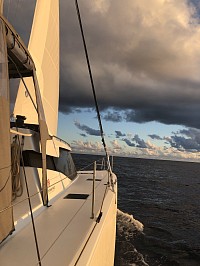 NEED MINIMUM TRAINING TIME AND SIGN OFF FOR YOUR INSURANCE COMPANY?
Most Insurance Companies now require minimum experience levels to acquire an insurance policy allowing you as the owner to operate your vessel without a licensed captain aboard.  These minimum requirements vary from company to company.
We can help!  Our captains are recognized by most all insurance underwriters to sign off and account for your experience hours required to obtain your "approved operator" status aboard your vessel.
Contact us for more information!