Some of Our Happy Customer Comments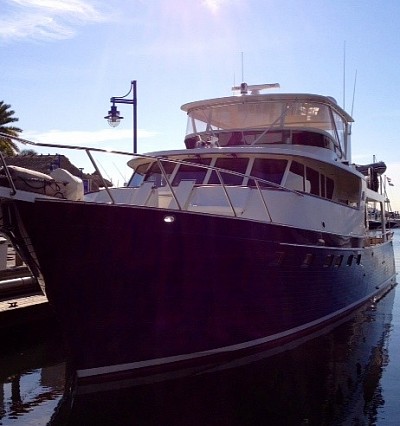 LIKE ON WATCH YACHT DELIVERY?
Send us a note & let us know how we did!
OR
Rate us on GOOGLE!
Just click the link below and click
"REVIEW"


--------------------------------------------------------------------------------------------------------------
December 2017
Jeff,
Hard to believe it's been two weeks since returning from the Bahamas. I was thrown from the crucible of my first major offshore passage straight back into an overbooked workload at home. Now I have a chance to finally come up for air with the holiday break!
I want to thank you again for the experience I had in bringing Southern Sun down from Annapolis to the Bahamas. As I said, I recognize expertise when I see it, and the level of competence, professionalism and safety you brought to the experience was invaluable to me and much appreciated – I soaked it up like a sponge!
Especially invaluable to me was the opportunity I had to get a few hours of lessons on docking from you once we got to the Bahamas. A lot of people who have expertise in a certain area do not necessarily have the skill or ability to explain or transmit that information effectively. You are a natural teacher and it was a golden opportunity for me to significantly increase my knowledge and skill in that area, again much appreciated!
Best wishes to you and yours going into the New Year!
Kevin Keane
s/v Southern Sun
--------------------------------------------------------------------------------------------------------------------------
Jeff:

Hope you are catching up on much needed rest. Just finished John Kretschmer's Sailing a Serious Ocean. Wow, he's had some whopping experiences over the years. It did seem as though on some occasions the weather got unexpectedly ugly and he explained how they dealt with it, but on other occasions he seemed to rush out when he knew the weather was ugly and put his boat and crew in harms way. I am more of a Jeff Lewis proponent of wait for the right time, see the window of opportunity and go for it - much safer. Of course, once you're out, you're out, and you have to deal with it, but you at least eliminate some of the unnecessary risks. Also, even though I will walk before I run and we will begin by extending to longer and longer day trips, before an overnighter, and then to two or three nights, etc., there are a few items that I am getting even before going out on About Time in May: (1) Lifesling - and then practice each time we're out. MOB is my biggest fear and I want my wife to be comfortable with getting back to me; (2) In-Reach - I may not use it a lot during the year, but if the technology is available relatively cheaply, nothing beats direct communication with the outside world when you need it; and (3) EPIRB - when you think of the cost of a life it's a no brainer for me.

Similar to the meaning of About Time, I've had time to reflect on our trip and it has taken on even more meaning for me now with each passing day. I have to admit I was more "sailboat tune for speed" oriented and less "weather" focused. The trip really taught me that yes, you need to know your boat and how to sail it, but understanding weather patterns and trying to avoid severe weather as much as possible is so much more important in offshore sailing. It's ok to trim and then leave things alone, let the boat do its thing and not over stress the rig. 1/2 knot either way won't change much. And move lunch and snack items up to the cockpit fridge before setting out for a day of sailing! My wife and I are taking an all day Safety at Sea course in Newport, RI in March. Heavy Weather Sailing is the next read.

Again, I want to thank you for an amazing experience, especially on my own boat where I saw it perform in action. I consider you a friend and hopefully our paths will cross in the future. Stay in touch!

Wishing you and your family a Merry Christmas and a happy, healthy and prosperous New Year.

Barry Slifstein

S/V About Time /Jeanneau 54'


------------------------------------------------------------------------------------------
December 2016
Captain Jeff,
If you remember, you spent a couple of days with me back in the spring of 2015 on my mainship 43 at Sarabay Marina. I just wanted to let you know that we have been living on the boat since then and yesterday completed the great loop (6,500 miles). The lessons that I learned from you, "skid steering/Ferrying", holding the boat steady in winds and currents, docking, and many other operational techniques proved invaluable and allowed me to handle the boat in so many situations that we encountered.
I can't tell you how many times, when in a difficult situation, I would ask myself "what would Jeff tell me to do here"
You were tough, which I really liked, extremely knowledgeable and a great instructor. I would be remiss if I did not send out a big "thank you" !
All the best!
Mike "Sweet T"
__________________________________________________________
JULY 2016
Toby & Manfred Hellmers
OMG, I soo wish you were here today. We took Keine Eile out with 2 cousins aboard. I had them stationed starboard with fenders in case we came too close to the red boat on the Tdock across from us. Manfred drove and I warped us out. Fenders in. Very smooth. NO scratching and not even close to swiping the red boat. We were on our way.

We made our way to Wrightsville Beach. Super low tide. Saw several small outboards run aground, including a Tow Boat US. We stayed in the middle of the channel and were fine.

On the way back, just before our marina we decided that I would dock first, then husband. The boat on the dolphins was flagging upstream. I stayed left of center going into the marina. Hooked a right and headed straight for Tahina.

Neighbors on the dock walked out on our finger and said they would get the lines. Way too soon. I had not yet stopped in front of our neighbor Marine Trader. I stopped, reversed, neutral, forward, (wheel hard left the whole time), neutral, forward, …….then I was no where near where I should be and didn't know how to get back.. I rocked forward, neutral, reverse, neutral, forward 2-3 times, and just got farther from target. Several people on the dock by now waiting to help us with lines. Several people on board wondering what's going on. Husband standing beside me wondering how I would fix this.

Normally this is when I would panic. Hand the wheel to whomever was standing next to me and walk away, regardless of their qualifications. But somehow, I was TOTALLY CALM! I couldn't believe it! I kept waiting for the heart palpitations to come..Didn't happen.
No tears. No nervres. Just a command to husband to tell those waiting to help us with the lines that we were going out again to reset and come back in, and we had our line set on the steps for our hook and we didn't need help because we wanted to practice doing it alone.

I calmly drove us out to the ICW, turned around, and drove back into the marina. Aimed for Tahina, stopped in front of my slip neighbor on the starboard side, put her in neutral, wheel hard to the left, reverse, neutral, forward, neutral, reverse, etc, a splash when needed, and dropped her in like an eight ball in the corner pocket! I was soooooo STOKED!!! Then we reset so I could warp out for husband's turn, and he went out, in and docked with absolutely NO PROBLEMS at all! You would have been SOOOOOO proud of him!

Although I was initially disappointed that I didn't get her in on the first try….I think something far more important happened there. For the absolute very first time, my heart was not racing, I was not in tears, and I just had a healthy respect for the knowledge/lack of, that I needed to get her docked. I KNEW i had the knowledge, so also knew that it was just a matter of putting my training into practice and using what you taught me. As a result, I just stopped, held station, assessed the situation and thought the best thing would be to turn around, reset, and start over. But I still had these "helpful" neighbors standing there. THat's when I told him to get rid of them and I would try it again. I pivoted, drove back out, and came back in for a fresh start.

I stopped in front of my neighbor with bow at Tahina. Neutral. Hard Left. Then rocked her reverse, neutral, forward, neutral, reverse, and so on until she just dropped in the pocket. Didn't even need to turn the wheel hard right and bump forward. She was simply where she needed to be.

So so so pumped about all that happened today! 1) I didn't make it first time and kept calm to reset and drop her in on the second attempt, 2) husband dropped her in on the first time, and most importantly 3) I CAN'T WAIT TO TAKE HER OUT AGAIN!!!!!!

This is indeed a game changer for us, and I can't thank you enough for that !!!!!! This is the product of your acumen as a trainer. We both could have never done this without you!

Thanks, Jeff!! I'm forever indebted to you!


Please please let us know if you are passing through Carolina Beach again!

Take care,
Toby & Manfred

_________________________________________________________________________________________________
RAVING FANS!!!
MAY 2016
Dear Jeff,

I am writing to thank you for the excellent service provided by On
Watch Yacht Delivery & Training assigning Captain Rusty Harper to
deliver my Hallberg-Rassy 34 from Palmetto to Miami.

As expected the trip did not start completely smoothly. By Tuesday
morning we realized the batteries were dead even though we have been
motoring overnight. We head to Naples and I had the opportunity to
learn from Rusty how to trouble-shot the entire electrical system.
Rusty went step by step checking all the fuses, wiring, batteries,
connections etc, and in a very proactive attitude pulled out the
tools, dismounted the alternator and took it himself to an electrician
to see if it was faulty. He came back with the news that it was ok.
From then on we spent two hours calling every electrician listed on
every webpage until we found one who was willing to come and find out
that the problem was on the tachometer, which somehow was interfering
with the alternator's function to charge the batteries. All around I
was very pleased with Rusty's attitude to get us going by leading
hands on solving the nuisance electrical problem and then finding
assistance. Once repaired, we sailed nonstop day and nigh until
arriving to Coconut Grove.

Even before departing Rusty had been monitoring two storm systems that
were moving from the Gulf of Mexico into the Atlantic. As we crossed
over the Florida Keys into the Atlantic, it was clear that we will be
caught between two of those storm systems before arriving to Miami;
therefore, we decided to sail offshore to avoid the complexity of
navigating at night and under heavy winds through the inner Keys,
shoals and small islets.

Knowing what was coming, we rolled in the jib and secured the first
and second reefs just as the wind started picking up. That's when I
was very glad that Rusty was in charge. From about 2:00 pm until 8:00
pm it was increasingly blowing from 20 to 30 knots with rain. Then for
the last seven hours, it became incredibly challenging -to my eyes-
with sustained winds of 35 knots and frequent burst blowing over 40
knots with heavy rain. In one of those burst the solar panels were
ripped off from the Bimini and one flew away. It became so hard that
the autopilot could not handle the shifting winds and heavy seas and
Rusty had to take the helm. I have to admit that it was intense and at
times quite scary -for me.

In the past I had been in that kind of seas but aboard large research
vessels never sailing at night. Captain Rusty was all the time at
ease, self-confident, sharing with me what he was doing and why he was
doing it until we sailed my Hallberg-Rassy into Coconut Grove arriving
safely at about 3:30 am on Thursday.

All around, I am very impressed by Captain Rusty's professionalism,
and grateful for his generosity sharing with me his knowledge and
seamanship. It was not just the delivery of my boat but indeed an
intensive hands-on sailing training experience.

My very best,

Luis

NOVEMBER 2015
Hi Jeff,
I am hoping you remembered my wife Laurie and I (Eric). We were the couple you assisted with Advanced Docking at the Tampa Boat Show; where it was the session that included just us two.
Let me first say, the training you provided has taken every bit of stress out of docking…I have astonished many onlookers, received many positive comments and "how'd you do that…" and now, my friends give me the helm when it's time to dock their boats. I have even placed these skills into practice on much larger boats and the education you provided continues to work like a charm. Which brings me to my main question.
We bought a new (new to us) boat and would like to know if you be available for a private lesson? The boat is a completely different type of boat from what we had and we would like to cover anchoring, docking, engine trimming (mainly for fuel efficiency) and any other useful items that could benefit our boating experience. Would this be something you might be interested in assisting us with? Please give me call at your convenience.
Regards,
Eric Simpson
SEPTEMBER 2015 re. Training at Norwalk Boat Show
Tom,
Thank you once again for the opportunity to observe and apply boating skills at the Norwalk boat show. I am especially appreciative to have worked with Bill Jacobsen and Jeff Lewis. I found their knowledge, confidence, personal skills and patience,tobeatanexpertlevel.Icanunderstand why so many persons requested taking every available class offered. I believe that the hands on boating skills classes are more than essential and hopefully will be a requirement in obtaining safe boating certificates.Pleasefeelfreetocontactmeforfutureassistance.
Warm regards,
Joseph T. DeStefano
_________________________________
Marty, Bob and Jeff:
Theresa and I recently completed the ASA 101/103 combo sailing courses.Theresa is new to sailing; and we thought it would be a great way to introduce her to sailing; before we purchase a sailboat.We had to postpone our scheduled classes for 4 months; and you accommodated us without issue.
Unfortunately, Captain Bob was unable to teach us due to an injury; and Captain Jeff Lewis taught us instead.Jeff exceeded our expectations. He taught us in-depth but easy to understand sailing lessons; and was both professional and personable.
We hope to return soon; to take ASA courses 104/118; and hope Jeff will be our instructor. We sincerely thank you for making our experience informative and fun.
Best Regards,
Ron Kazmier
5/6/2013
___________________________________________________
"Capt Jeff,
You are a v.easygoing guy and a patient instructor - I learned a lot from you and admire your considerable skills at seamanship. We will give you a call afterJune 15 for some remedial instruction." -John Worlein S/V Sea Castle / 2004 Hunter 33'
___________________________________________________
I met Jeff several years ago during the sea trial, pre-purchasing my boat. Since then, I hired him for 4 different long trips:
- Tampa to Ft. Lauderdale
- Ft. Lauderdale to New York
- New York to St. Thomas USVI and back.
Together we total of over 4,500 nautical miles of blue water sailing together.

I also hired Jeff for a two day personal course on how to dock and operate under engine.
I learned so much from him about the boat, seamanship and sail trimming (Jeff was a competitive sailor). After the third trip I was asking myself if there would have been anything left for him to teach me. There was, and I am sure there would have been a fifth trip, but decided that it was time for me to sail with my own crew.

Now every time a "situation" occurs during a passage, before taking any action I ask myself what would Jeff do? I have since completed many successful passages and plan to use my knowledge to cross the Atlantic to the Mediterranean!
Marco Mastrapasqua
S/V Blue Note
New York, NY
___________________________________________________
"Dear Captain Jeff,
Attached are the slip assignments upon your return fromMiami to Regatta Pointe Marina. You did a tremendous job delivering the Massey fleet to the show. It was a difficult trip down but everyone arrived safe and sound. Thanks for a job well done."
Ed Massey, Owner Massey Yachts Palmetto, FL.
___________________________________________________
Happy to supply a reference to you concerning Jeff Lewis. I live in Brisbane, Australia and in May of 2008, I flew to Florida and purchased a Catalina 30 that Jeff was Brokering with his yacht brokerage.
Jeff met me at the Tampa Airport took me to the boat for a showing and was certainly a boat Broker with a difference.... he actually knows what customers service really is. I found Jeff to be very competent and helpful and I could tell that he had a passion for Yachts and had been around them all his life.
After closing the deal, I had discussions with Jeff about storing the yacht until I could return to the U.S. to sail her from Tampa Bay to Ft Lauderdale for loading onto a Dockwise yacht transport vessel back to Australia. Jeff kindly arranged storage for me then to my surprise offered to sail my new yacht to Ft Lauderdale and also offered to look after loading on my behalf. Normally, I would not have trusted another skipper with my new yacht, however, after seeing Jeff's own boat and talking to him about his ocean and skippering experience, I had complete confidence in Jeff's ability and professionalism.
Subsequently, in late July 2008, my Yacht was delivered to Ft Lauderdale on time and in pristine condition. Jeff then once again went the extra mile and stowed, lashed down and made good the vessel for transport. Upon arrival in my home port, I was amazed at Jeff's attention to detail and professionalism as a skipper. Also to my surprise, unlike other skippers, there were very minimal hours added to the engine and that Jeff had actually sailed the majority of the distance.
In closing, I would not hesitate in recommending Jeff Lewis as an honest, capable and trustworthy delivery skipper.
If you have any other questions please do not hesitate to contact me.
Regards Chris Gerhard
Brisbane, Queensland, Australia
_________________________________________________________
Capt. Jeff is an outstanding individual and is a close and personal friend of mine. Jeff is very intelligent person and a strong wealth of knowledge in the boating industry. An overall great guy. I highly recommend him!
Thank you,
Erik Maltby
POP Yachts, Sarasota, FL.
___________________________________________________________
Mr. Bill Wiard, of Massey Yacht Sales, Quotes: "Captain Jeff Lewis is one of the most professional Captains I have ever worked with in my 20 plus years in the yacht business."